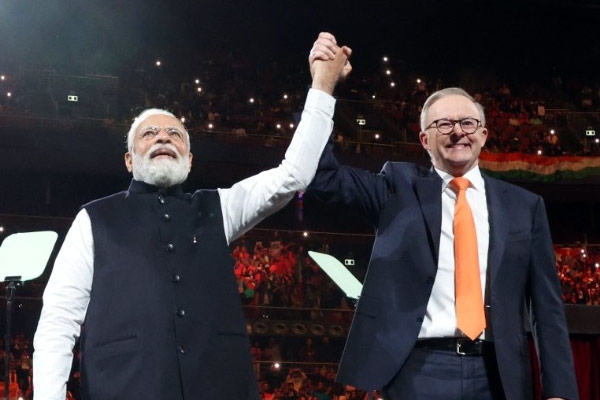 (Image source from: Twitter.com/PMOIndia)
Prime Minister Narendra Modi reached Sydney on Tuesday. He was welcomed by Australian High Commissioner of India Barry O'Farrell and other officials. Modi addressed at Qudos Bank Area in Sydney where more than 21,000 people from across Australia attended. He announced that they are going to open a consulate in Brisbane, Australia to fulfil the demand of the Indian diaspora in Australia. He unveiled a foundation stone of 'Little India', a suburb of Sydney. Australian Prime Minister declared Harris Park as 'Little India'. Harris Park is the place where the Indian community celebrate their festivals and events.
इसी वर्ष मुझे प्रधानमंत्री @AlboMP जी का भारत की धरती पर अहमदाबाद में स्वागत करने का अवसर मिला था।

आज उन्होंने यहां 'लिटिल इंडिया' के foundation stone को unveil करने में मेरा साथ दिया है: PM @narendramodi pic.twitter.com/kiWT3ifQnB

— PMO India (@PMOIndia) May 23, 2023
Narendra Modi talked about India and Australia relations by mentioning as 3C's, 3Es and 3D's, which explains, the 3-Cs, Commonwealth, Cricket and Curry, 3-Ds – Diaspora, Democracy and Dosti and then 3Es – Energy, Economy and Education. Indian diaspora made it loud by cheering Modi-Modi at the event after listening to Narendra Modi's cheerful speech addressing the Indo-Australian relation.
Splendid Sydney!

Glimpses from the community programme held earlier today. pic.twitter.com/FCuRD8EkKM

— PMO India (@PMOIndia) May 23, 2023
Modi also added that India and Australia have more mutual respect and mutual trust, which is leading for stronger diplomatic relations. He also said more respect for Cricket as it is connecting both countries. He also talked about the Masterchef which is connecting both countries. Narendra Modi appreciated the Australian public for respecting the diversity of Indian culture. With this Narendra Modi's three-country visit going to end starting from Papua New Guinea to Japan to Australia.
An absolute delight connecting with the Indian diaspora at the community programme in Sydney! https://t.co/OC4P3VWRhi

— Narendra Modi (@narendramodi) May 23, 2023